About Mercedes Taxi
24-hours a day, 365 days a year for its clients provide a wide range of transport services. Specializujeme se na přepravu osob. We specialize in transporting people.Our satisfied customers are private individuals, companies and other entities. We also provide courier services for the total cost of 200 kg (or the maximum amount of mail).
We are very concerned about security and convenience of our clients.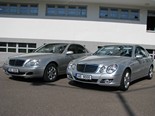 That is why our
fleet of
cars equipped with high-end
Mercedes Benz Mercedes Benz E - up to 4 passengers.
Mercedes Benz Viano - small groups of up to 7 passengers.
In cooperation with our partners, or provide other types of vehicles.All vehicles are luxuriously equipped and meet the most demanding clients. As the quality of the fleet, we have high demands on the staff is composed entirely of professional drivers with good communication skills and pleasant demeanor.
Taxi Mercedes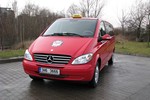 Jaromir Relich and Zdenek Hejcman owners of trucking companies
Phone:

608161216
602411920
Email: taximercedes@centrum.cz

Contact form
In the case of what questions to herein can also contact us through our contact form.We will answer all your questions. .Contact form